Welcome back to our second progress update for the SQUAD Bundeswehr Mod! If u are new here, have a look into our previous blog posts about our project:
For the ones who did not knew it yet: The Bundeswehr is the Armed Forces of Germany and our Mod is aiming for it´s integration into SQUAD as a faction. We are a group of modders, who love the game, but who are not getting paid from the games publisher OWI at the moment. With the following text, I want to give everyone a very honest inside into our inner works and the progress we made since the last blog post in june 2020.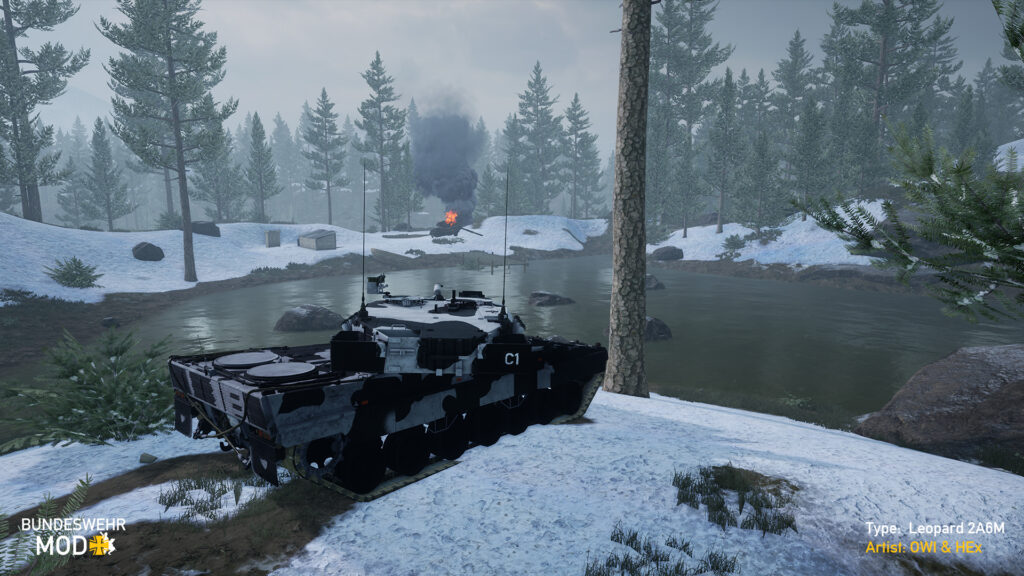 Map Progress
Our old friend and now Level Production Director of the FFL-Mod (congrats dude!) Xanders helped us to optimize Fulda Gap even further. We introduced what is called level-tiling, splitting up the map into smaller parts. This is the same technology first time used on the new squad map Fallujah. Later we will be able to reduce the rendered landscape per player by a lot (only thoose tiles which are visible to the player must be loaded, instead of loading 64 km² all the time).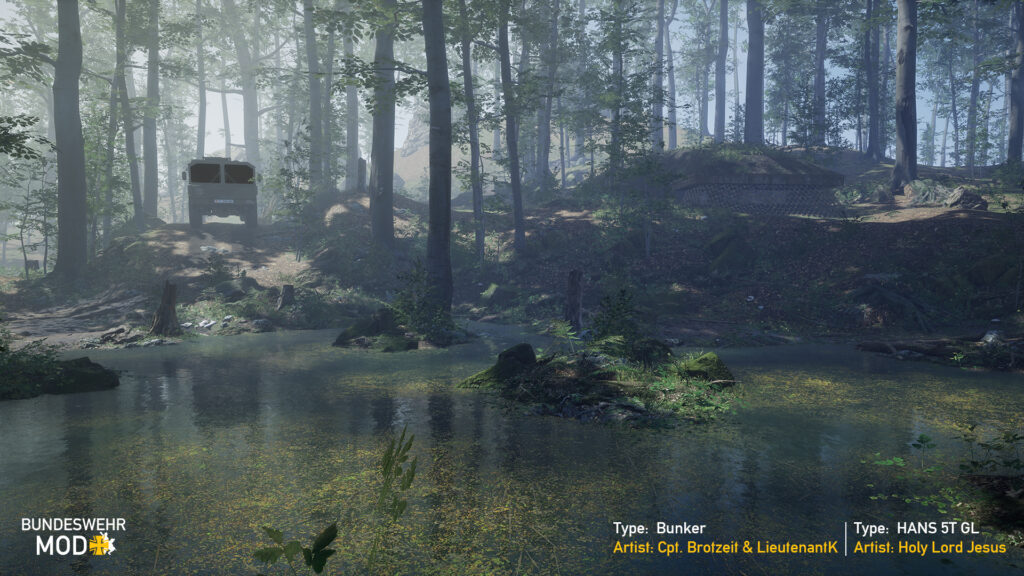 Additionally we added new and more precise satellite data to the map geometry. We are in the process of repositioning all our roads and assets by hand, which is painfully slow at the moment, as you can imagine. Another performance update is regarding the landscape ´levels-of-detail´. For far ranging views, like on a mountain top or in a helicopter, we added a extremely high resolution satellite image and so called cutouts for brushes and trees. Instead of your graphics card rendering a LOT of natural assets and textures of our landscape at a far, it must only load simpler 2D pictures of trees, bushes and the landscape itself. The difference is nearly not visible for the eye, but the performance boost is indeed!
Regarding our level assets, we were able to acquire hundreds of detailed items, which won´t be needed to be modeled by us anymore. Huge thanks to all the donors to our cause – you are awesome! We are proud to announce: These items, along with our uniquely modeled ones, will be used in new european map cooperation projects for SQUAD in the future. Your one-time donations will improve many upcoming Mod maps, isn´t that awesome?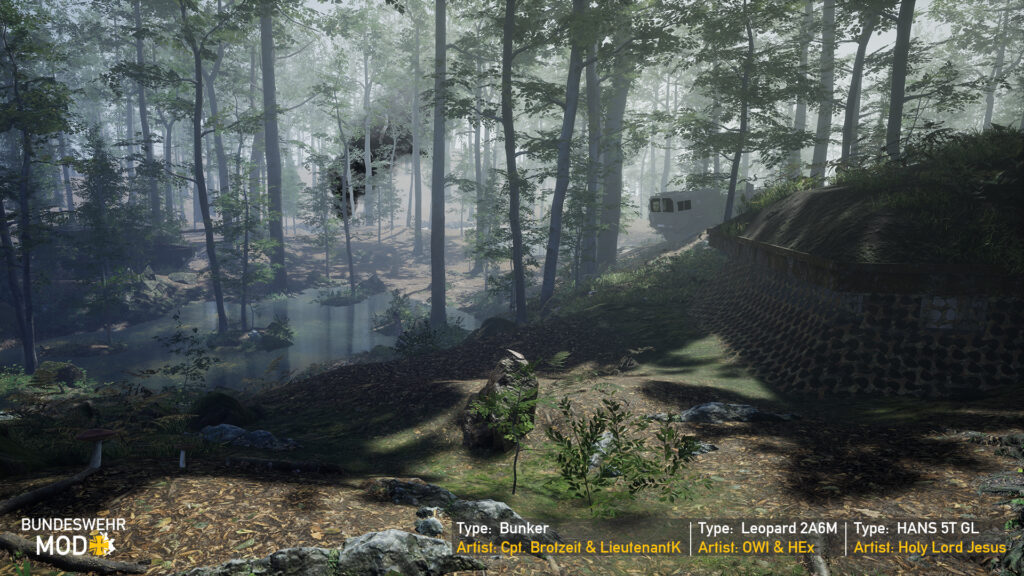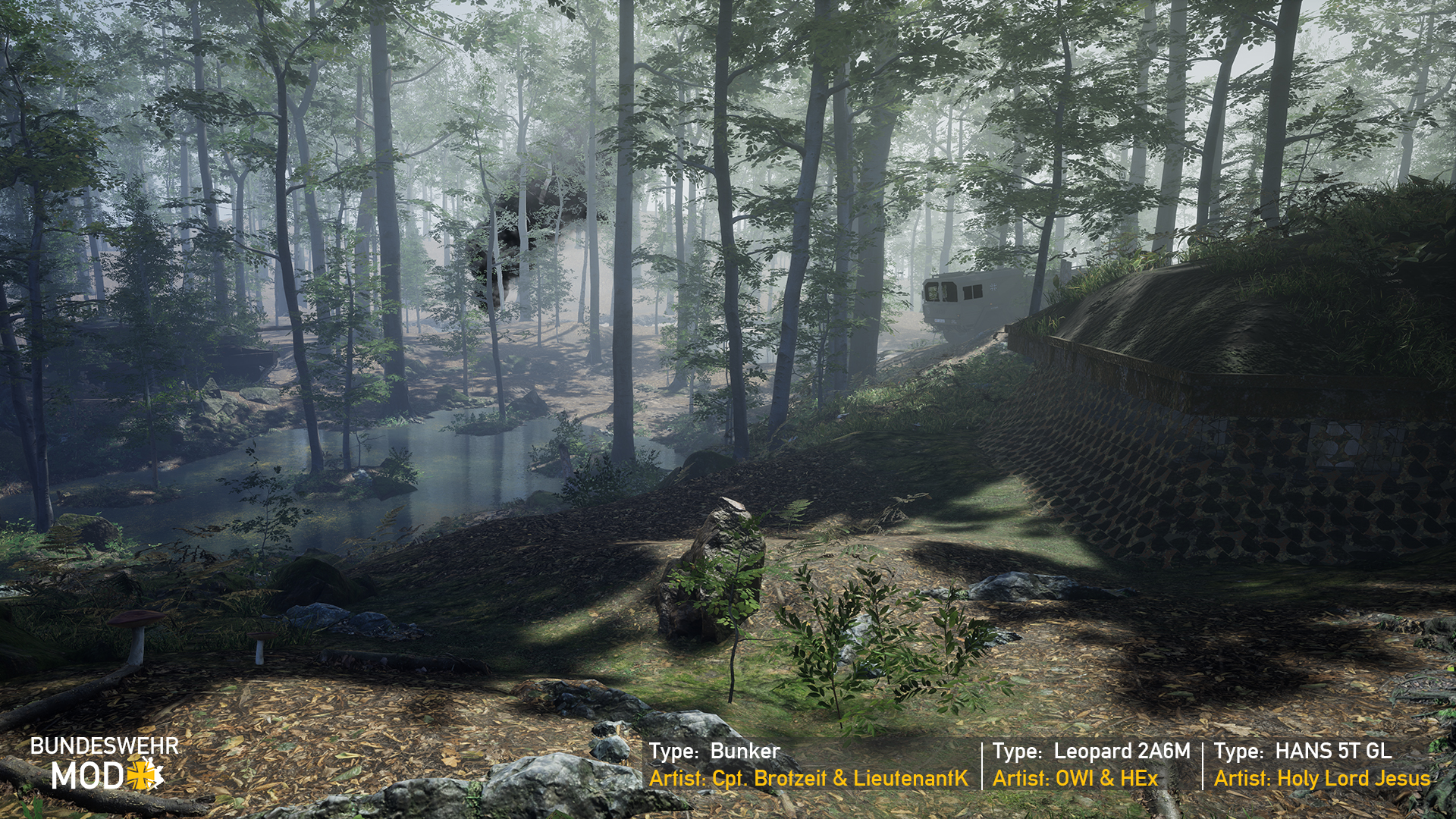 But of course we HAD to model our own stuff as well and continue to do so. Above you see some sneak-peaks of our upcoming cold war era bunkers (In the pic: Dug-down concrete MG-bunker with camo netting). The ATGM version is finished soon too. Shoutout to my buddy Cpt. Brotzeit for these awesome textures and the camo netting. All our bunkers will be combinable with the upcoming first real trench assets for SQUAD, also made by us. We hope these will change the battlefield of our favorite game by a lot and level the playing field for the infantry on big open maps. Stand by soldier – more is coming!
Weapons Progress
Lynx began to contribute to our team as a student of game design roughly a year ago – look how far he came until today! His side arms for the Bundeswehr faction look fantastic. The KM2000 is the combat knife of the German army.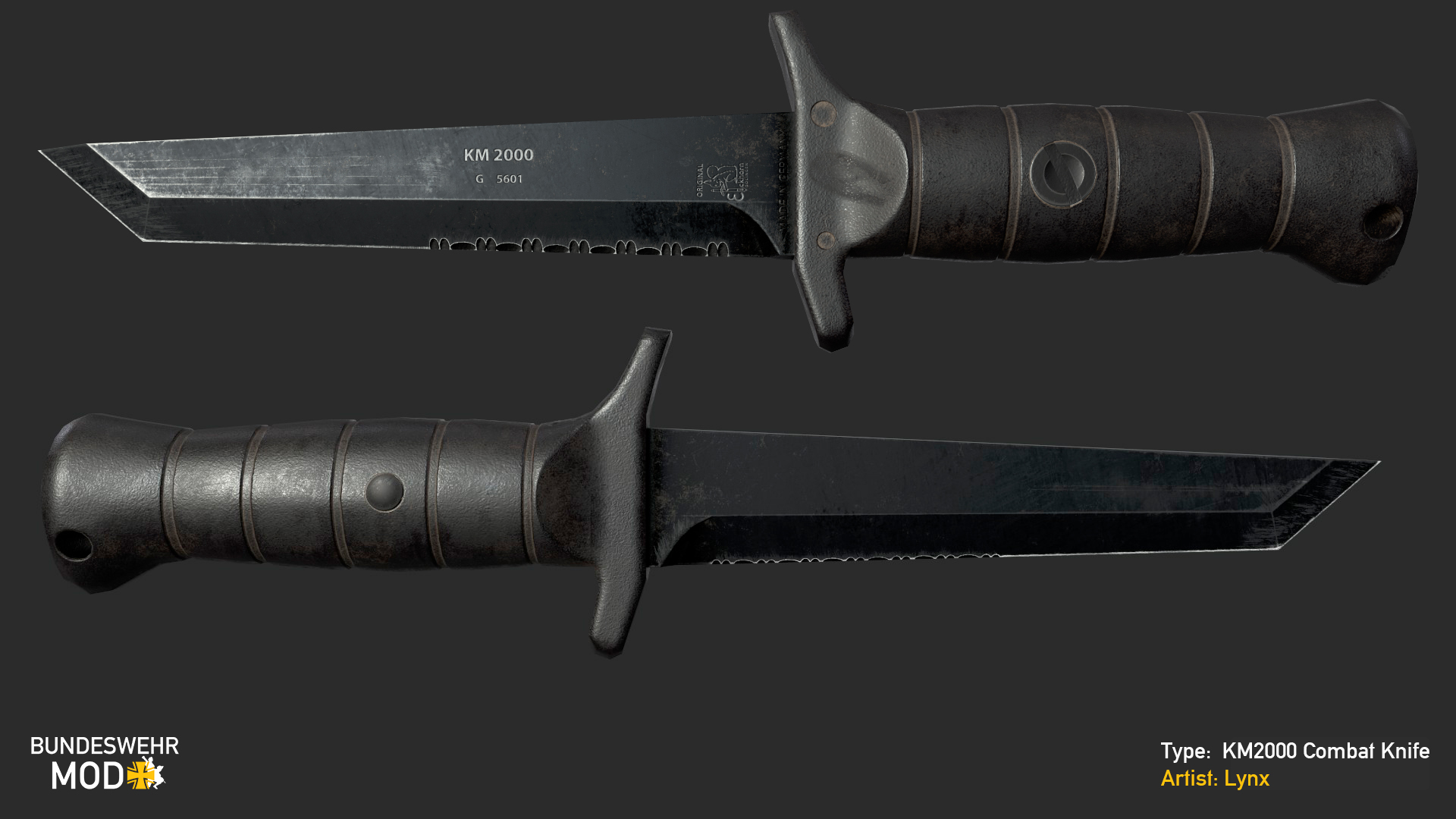 The DM51 is the frag grenade (Splitter-Granate) of the Bundeswehr. Watch out you pesky campers out there. Soon you will hear "Splitter ist raus!" all over the place.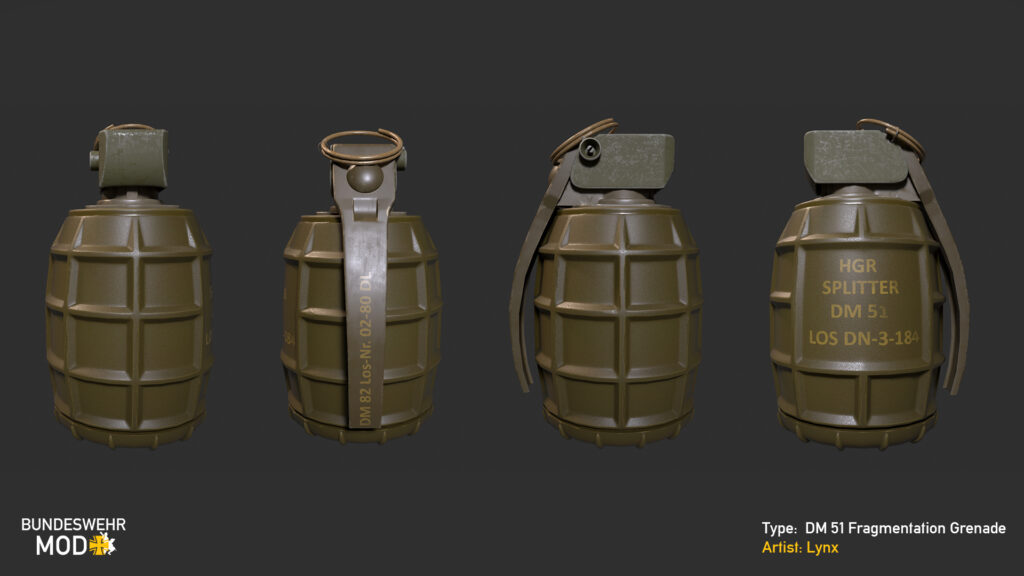 Asset Progress
Our faction vehicles are learning to drive and shoot at the moment (at least the ones which are finished by now :P). The star of this update is the Leopard 2A6M, borrowed from the CAF faction (thx OWI!) and adapted to the German army standard by HEx.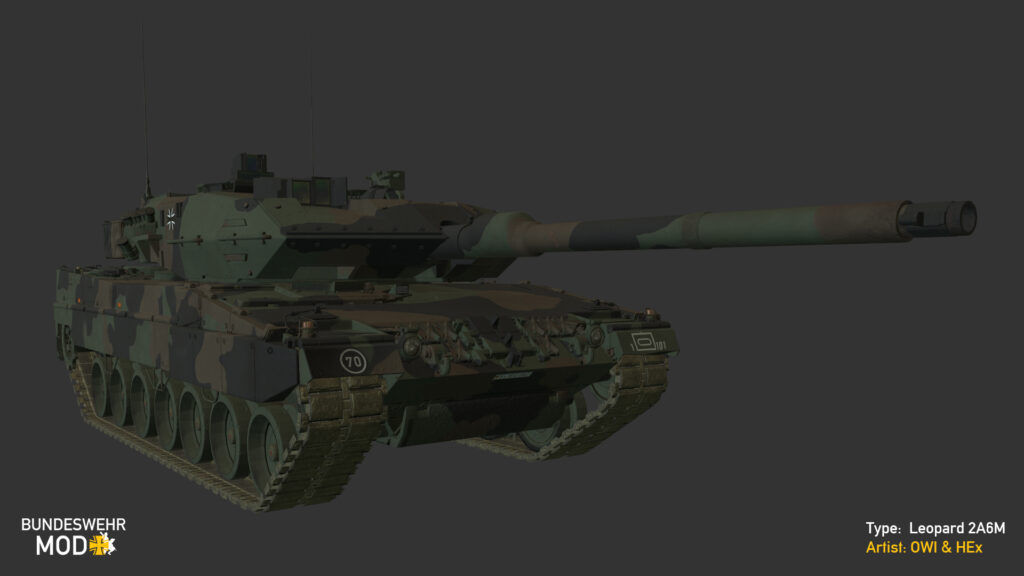 In cooperation with a Bundeswehr advisor, we added mine protection armour plates, corrected some important details and painted our four biom camouflage.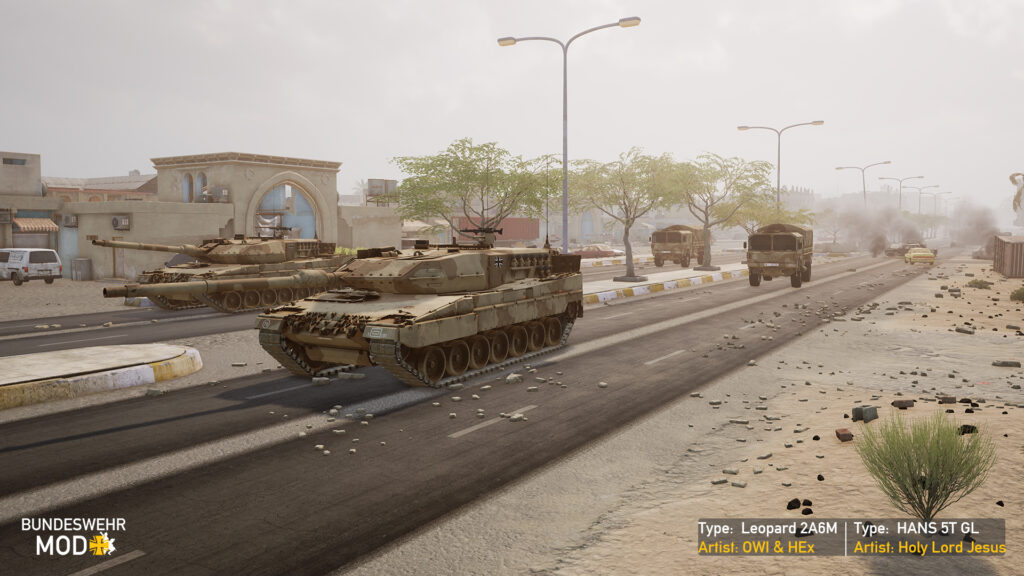 Both the snow and savanna camouflage versions will receive some final touch-ups later on. We decided to use a black and white scheme for the snow camo, so our vehicles will excel in arctic conditions such as Alacs upcoming norwegian map project.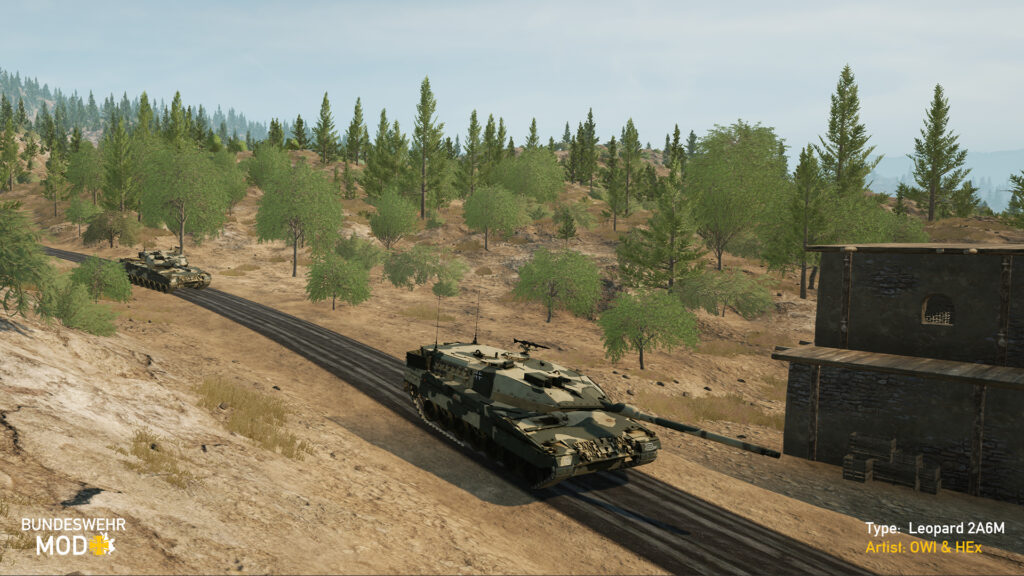 Team Progress
I am preparing all kinds of contractual works for our team members at the moment – another work which is not visible, but takes a lot of my time as a project manager and level designer. You might have recognized the little crown next to my name in discord. It means i am officially 100% the chief guardian of our project. The founder of the BW-Mod – para – is pursuing his career as hospital doc – we wish you great success and hope you join us in 2021 testing our baby!
To support the leadership of our team, I added new Dev Admins. I congratulate Cpt. Brotzeit (Level Design + UE4 Asset Import) and Deadinside (Sound Design + Social Media) to their new Admin roles in our Team. You were a backbone to the team all along!
A big change to the way we are working in the future will be the absence of publicly communicated timelines. After a few team members asked for a tighter schedule, we saw over the summer a massive dent in productivity of our team members. This had different causes. In my case, I dealt with a flooded apartment and too much work as an architect in real life (my level design contributions dropped to near zero). Others simply enjoyed to travel around after the first lockdown, while some simply had to focus on their studies and RL careers. Im happy to see more stuff getting finished now, but i will refrain from adding pressure with public timelines (I hope you guys are not too sad about not having fixed finishing dates though. But u may understand, we are doing all of this in our off time!) .

Once the bureaucratic stuff has been finished, i will add 5 new permanent modders to the team and we are looking forward to their help in 2021!

LieutenantK out.