Dear SQUAD Community,
wow. Just WOW. Our team used the last 6 month very well! This month, we proudly present our progress in weapons, characters, vehicles and FOB assets. Our new German faction is well on it´s way and we are working on nearly all items of our development list by now, which is awesome in my books – we are on track and our goal to release at Q3 of 2020 seems legitimate.
Before we dig deeper into the modding goodness, i want to give a big shoutout to leveldesigner(+) Cpt.Brotzeit. After Gunslinger left our team in december 2019, he did a complete re-work of our map Fulda Gap. This grueling optimization drill resulted in a better performance (around +25 FPS on a small test server and way less lagging). Not much to show here yet, but important nevertheless – thx Broti! Let´s get to it now, shall we?
FOB Assets
First i want to present to you our new and specific German FOB assets and props. We are aiming towards a clear distinction of our FOB stuff to what is there with the current vanilla game. Apart from using correct tactical signs, you might spot one or the other German flag on our gear.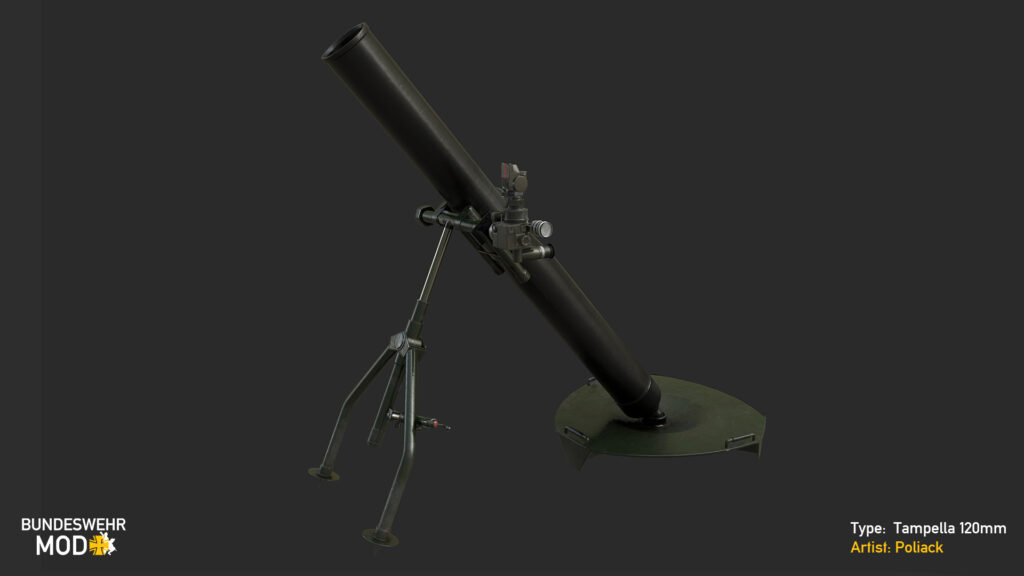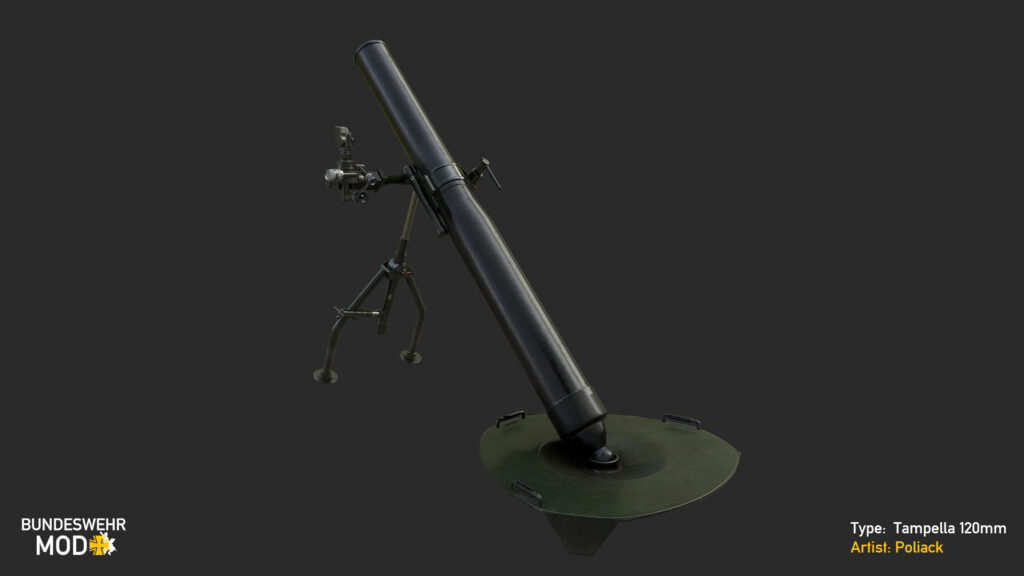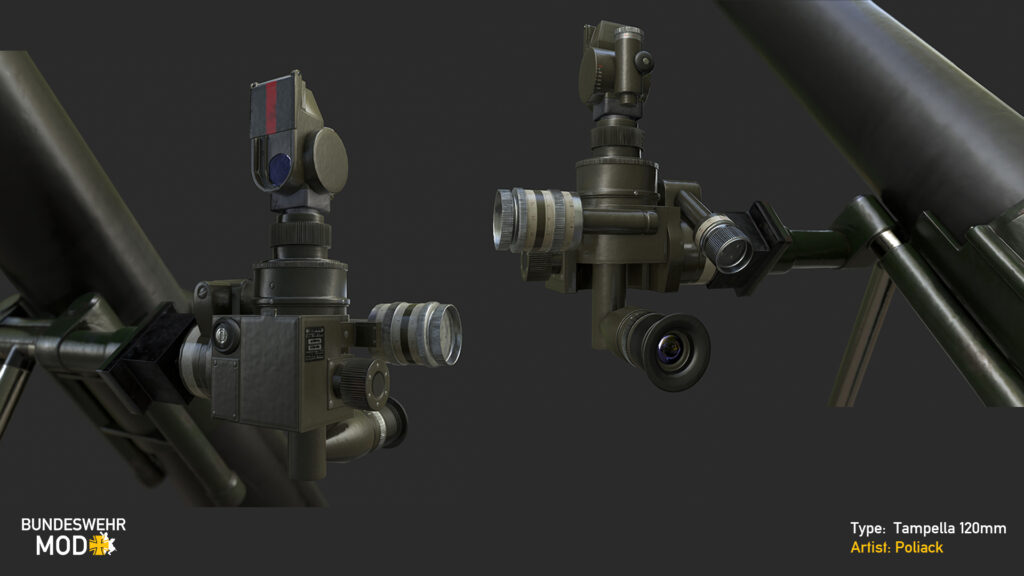 Poliack finished his 120 mm Tampella mortar for the Bundeswehr faction. He added a crazy detailed mortar dial-optic and proper textures. Brace for impact!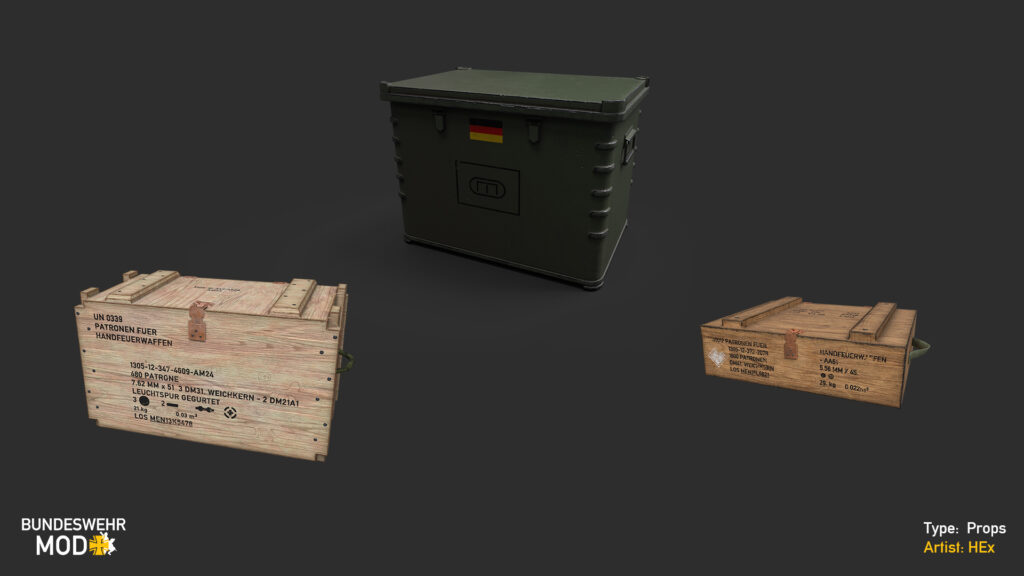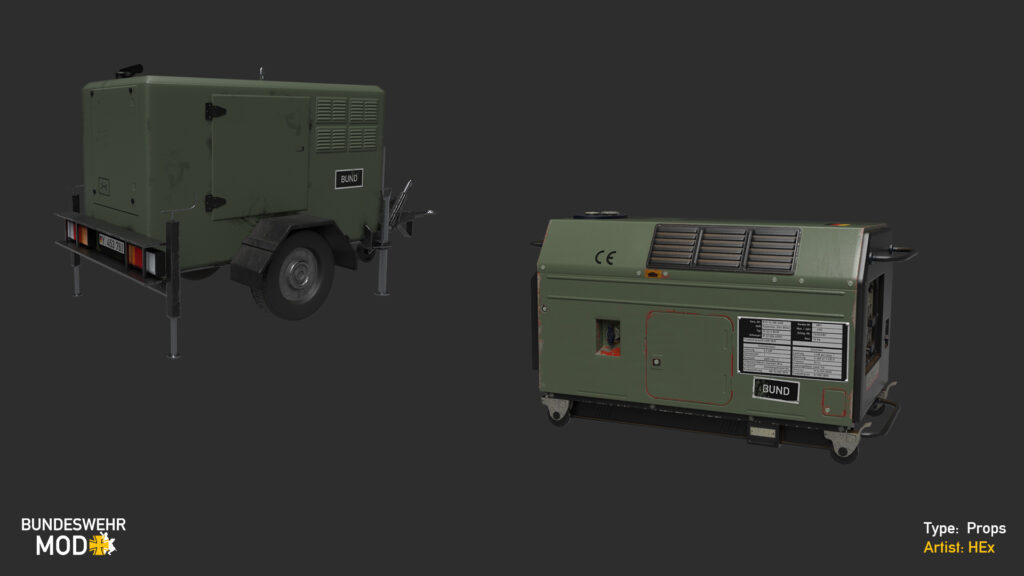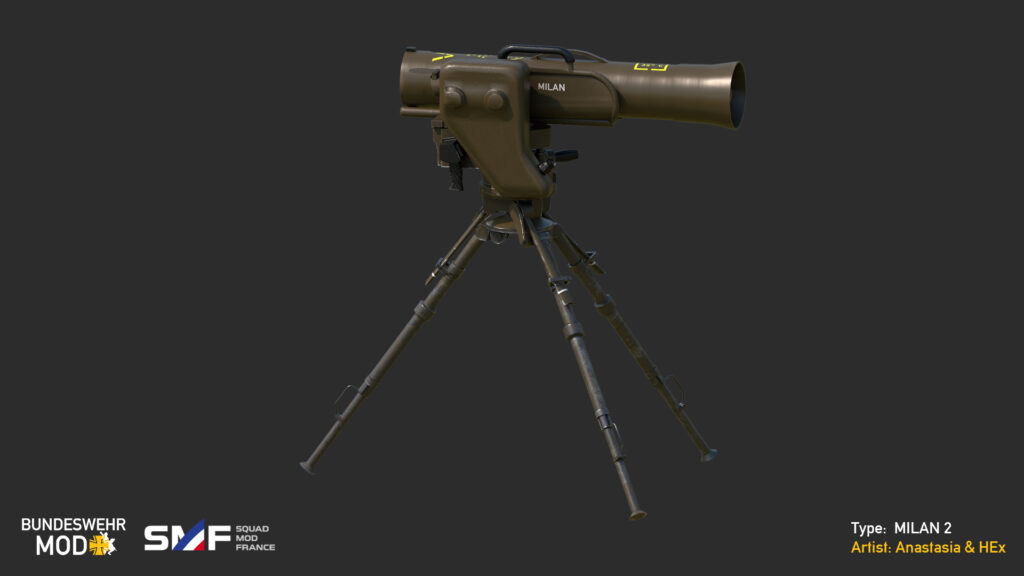 As you can see, the MILAN anti tank wire-guided missile is a common project of the BW-Mod Team and the French Foreign Legion Team. HEx reworked Anastasias base model, added new tripods and added new textures to everything. Since there are no IR / thermal optics in SQUAD, we removed these specific parts. We hope to continue our cooperation with the FFL Team and you can be excited for more to come from it soon.
Another big shoutout is due here: Our HEx managed to become a respectable artist, from beeing an absolute no-skiller when he contacted me in 2019 (like realy NO SKILL in modding at all). He is delivering high quality assets and evolves further with each item. Thanks for your great effort too, HEx!
Character Models
Our boi HolyLordJesus began his work with our character models and their IDZ Flecktarn uniforms. Of course it is a WIP, but we felt like showing it to you with this update. Especially the snow Flecktarn character will be changed a lot, since our military advisors gave us valuable feedback for it. Anyways – awesome job from HolyLordJesus so far!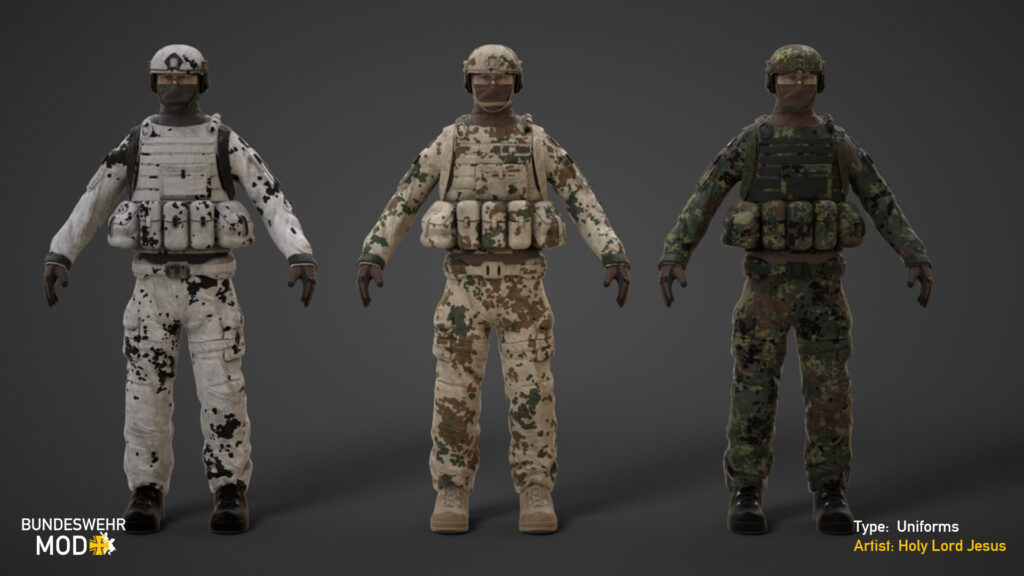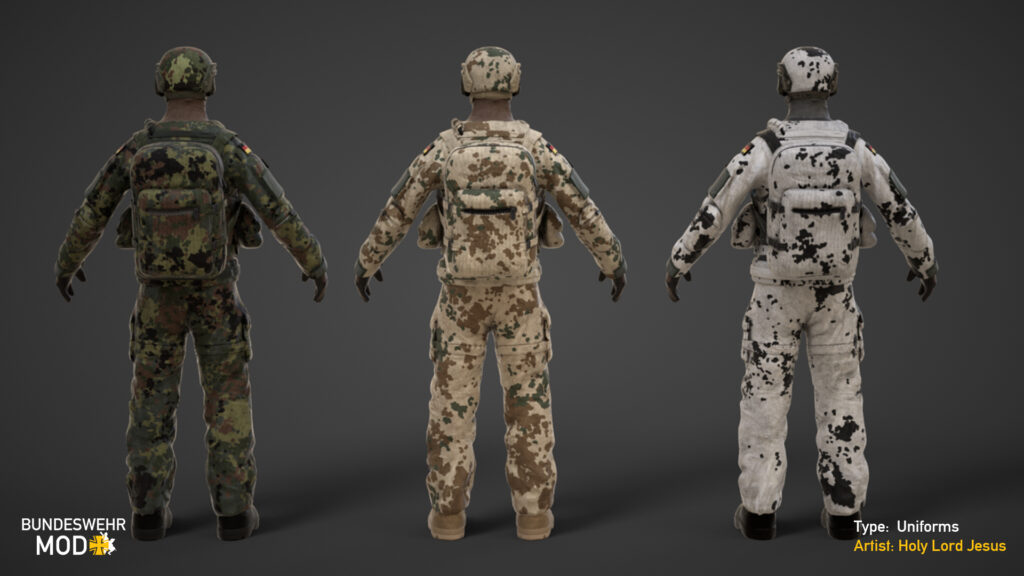 Weapons Update
Another awesome update regards your tools for getting the job done as a gamer: Weapons. This time around we are getting into weapons, which are mostly used by specialized soldiers, like the engineer (AT-Mine DM31AT), the crew man (H&K MP7), the marksman (H&K G28) and the German sniper rifle (G22).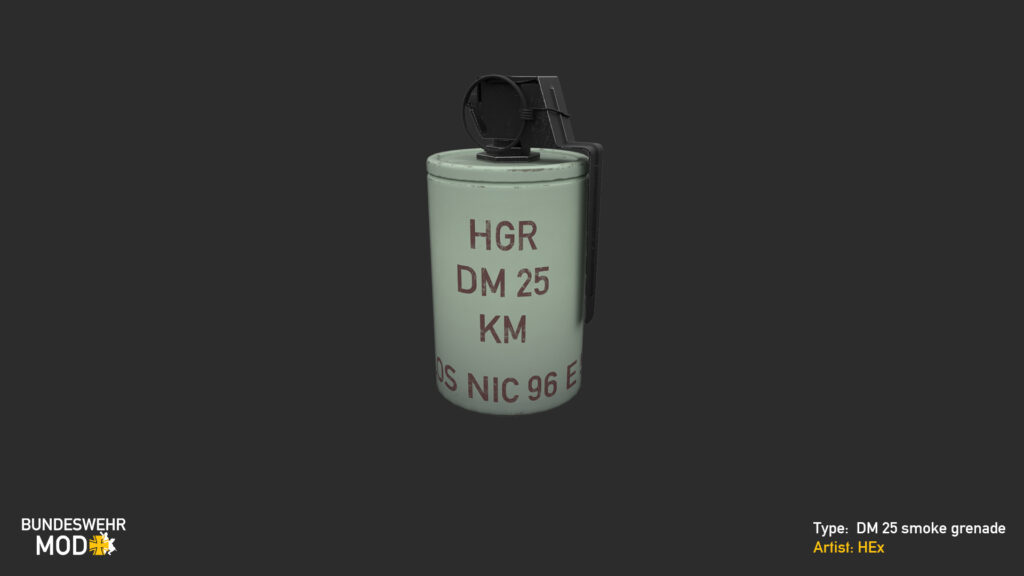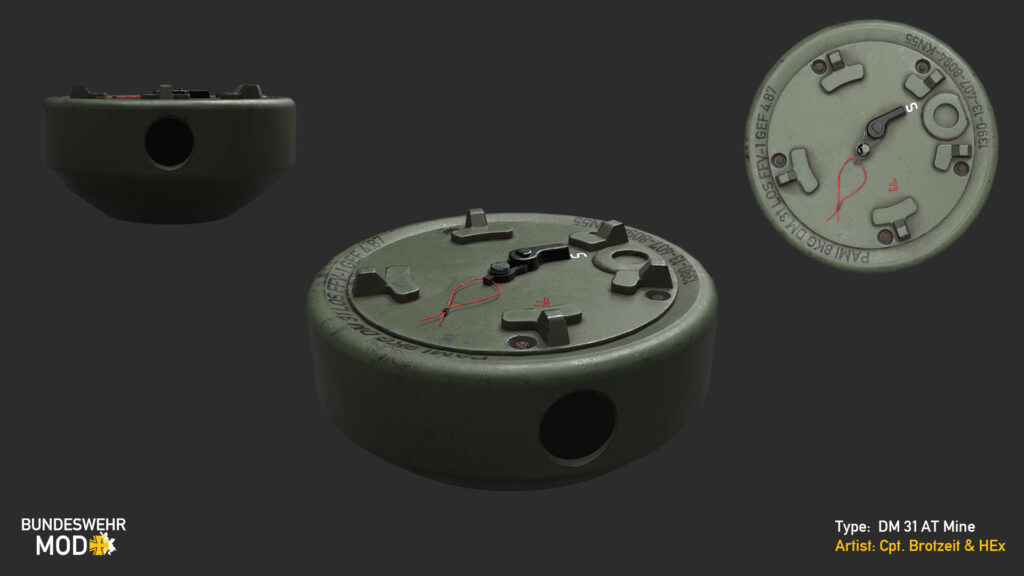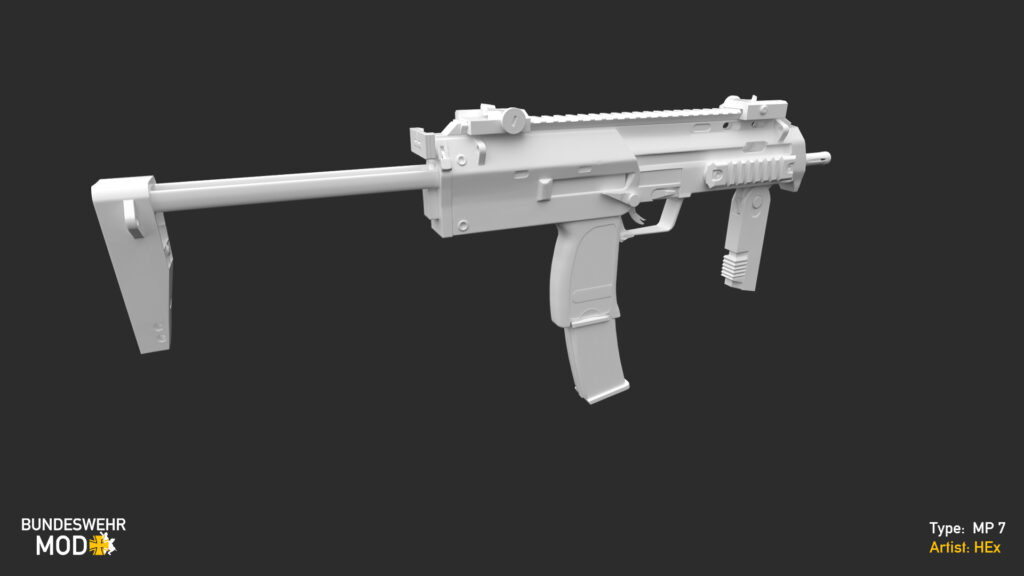 Cpt.Brotzeit modeled the AT-Mine completely, so you will see the correct arming process, once animations are done for it! Again, thx to HEx for his modeling and texturing skills with the DM25 smoke grenade and the H&K MP7 (yes, it got the 40 round mag).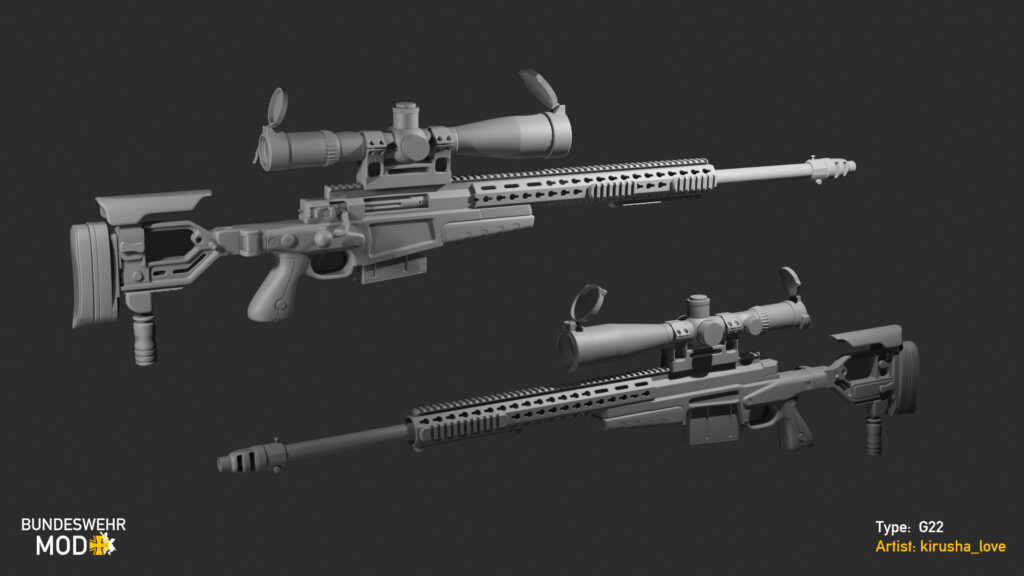 Kirusha shows us his modeling progress with the German sniper rifle G22 as a so called whitemodel. You might remember kirusha as the creator of the CAF sniper rifle and you would be right to do so. Thanks for your art kirusha_love!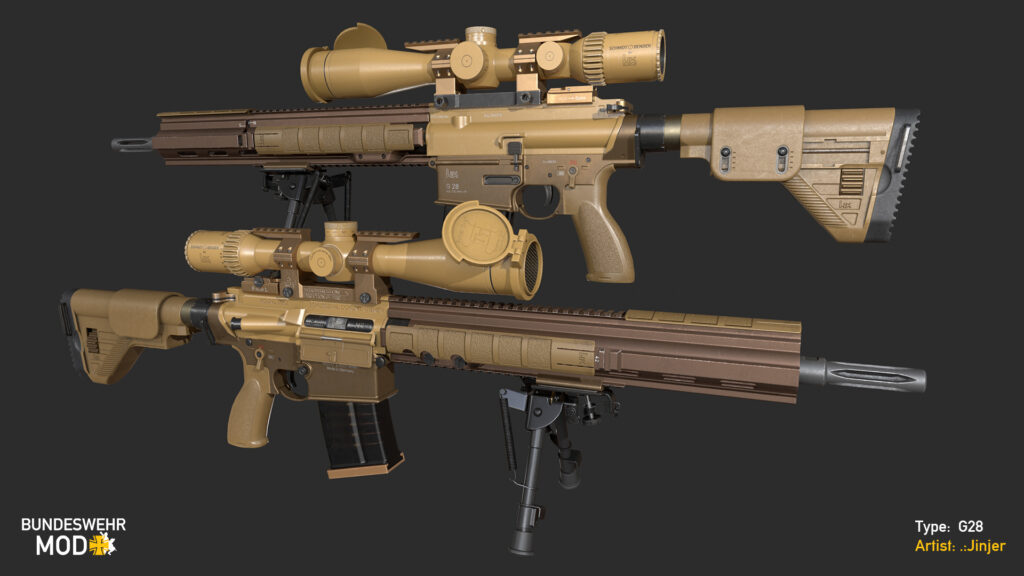 And of course our .:Jinjer, with his brand new H&K G28 in tan – the main DMR of the Bundeswehr. It is… just perfect. Also thank´s to .:Jinjer for his work – keep it up buddy!
Vehicles
Also a massive update with our faction vehicles awaits you: We present 3 vehicles today!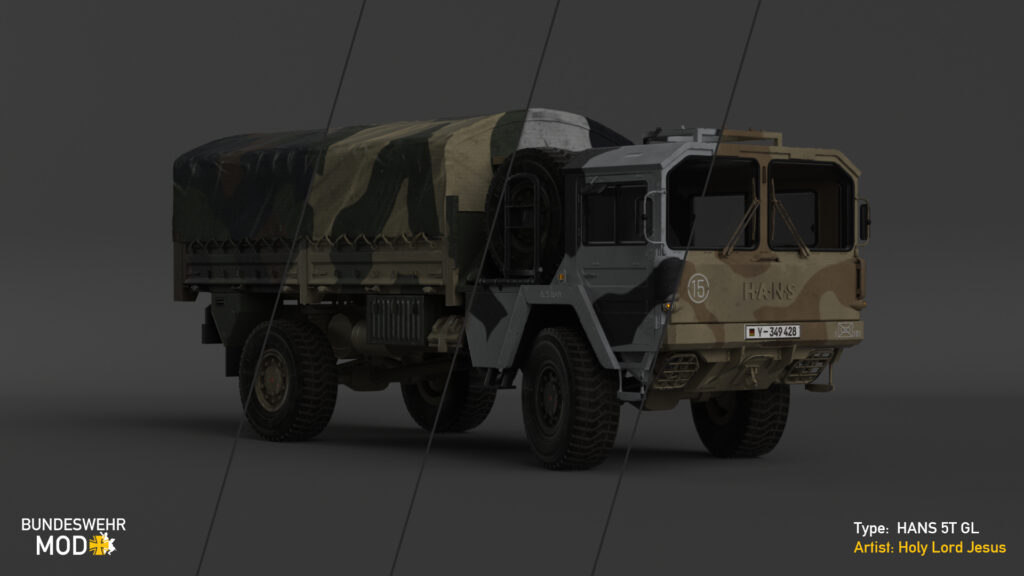 If you follow our posts at our discord, you already know about HolyLordJesus update for the finished transport / loggy truck HANS 5T GL. He showcases here our "four seasons/bioms" camo patterns for the Bundeswehr vehicles: Borreal Forest, African Savanna, Polar Winter and Desert. All vehicles will be dressed accordingly once finished!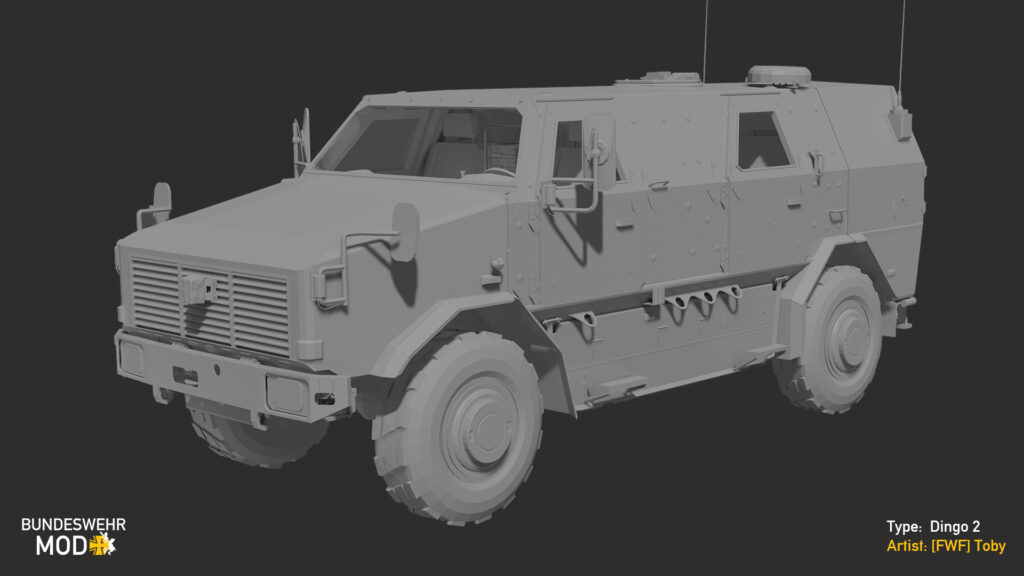 Our [FWF] Toby delivered the first finished whitemodel of the German Dingo 2 MRAP. Looks great, doesn´t it? Weapons are coming soon. Keep it up Toby, we are all hyped!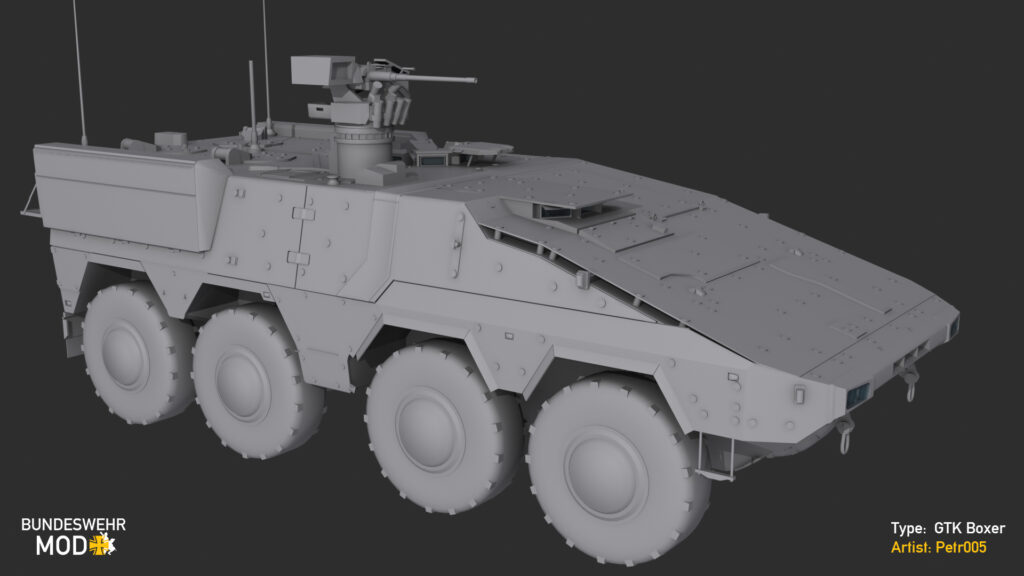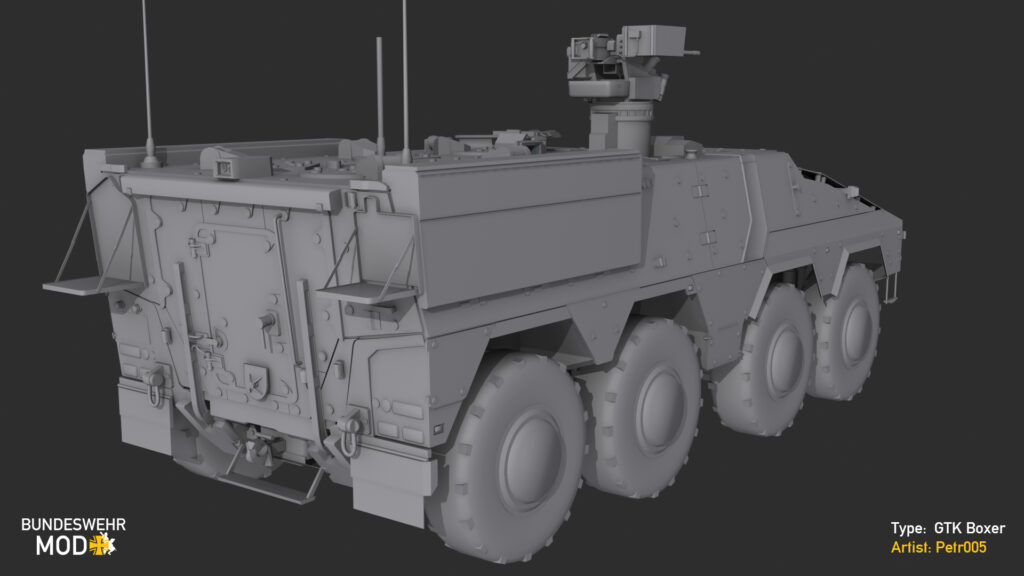 Petr005 managed to finish the GTK Boxer with it´s FLW200 weapons station and presents a extremely detailed whitemodel for it as well. Textures are already in the works and should be presentable in a month or two. As a Jäger and Panzergrenadier veteran, i am very pleased whith what you did here Petr005. I guess everybody is already itching for your upcoming PUMA model. 😉
Help!
Alright. Last but not least, i ask anyone who is interested in participating in our team as 3D Artist (One last vehicle is looking for a caretaker and many more buildings want to be built for Fulda Gap), Texturing specialist or Leveldesigner to report to our recruitement channel at the BW-Mod Discord with some of your former artworks. Especially for leveldesigning, we accept people with no or not much experience but a lot of time at their hands this summer! Our leveldesign team of 4, needs 2 – 3 additional helpers to speed everything up. So don´t be shy!
If u are a general supporter, feel free to spread the word with your peers or donate to our cause via our paypal. Your donations will exclusively be used for server costs, modding tools or pre-made assets for our mapping efforts. Big thank´s to all donors of the past 7 month. You helped us a lot already! Here´s a pic of the borreal forest environment pack we are using – financed by you (YES – the algeas/leafs on the water are moving and it works great in SQUAD…).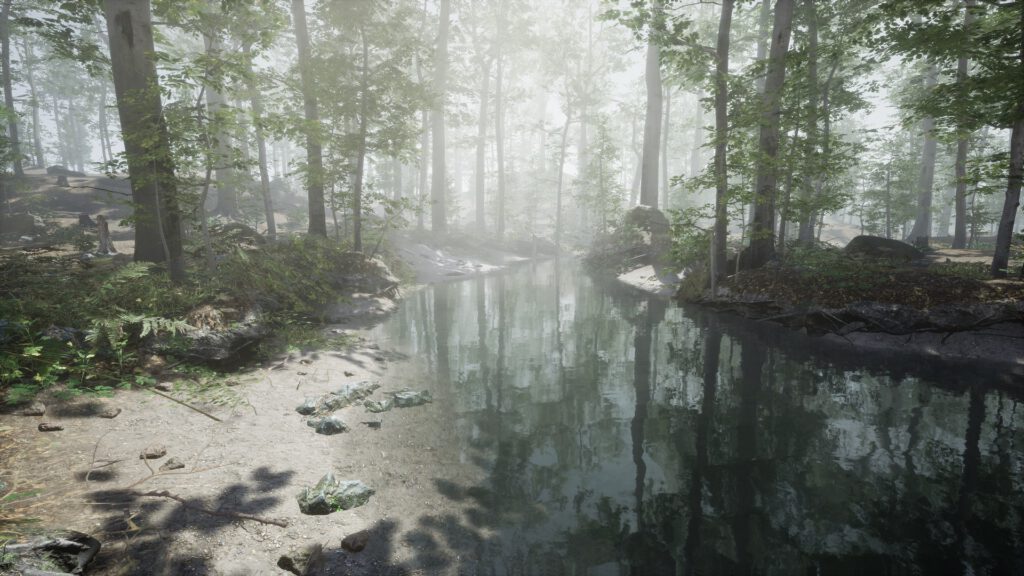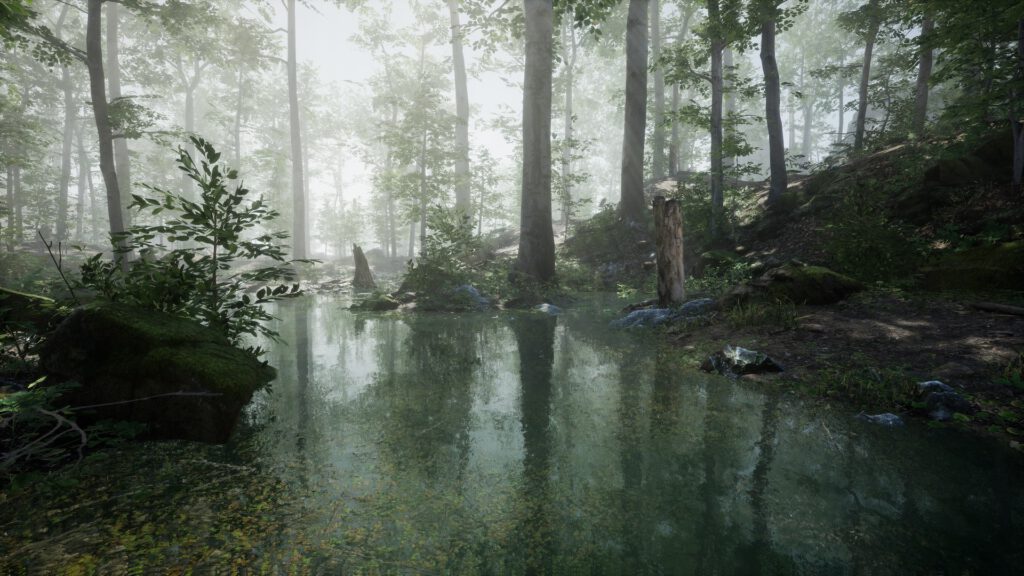 That´s a monster update, isn´t it? Wait for it. There is more to come. 😉
LieutenantK and Deadinside out!