Bundeswehr Mod: Christmas Special 2021
Welcome to the Christmas Special 2021! I am LieutenantK, the project manager of the Bundeswehr Mod for SQUAD. This article will discuss what we have reached so far as a team and show you some mind boggling stuff regarding not just our map Fulda Gap or the German army faction, but also regarding a new potential game mechanic for SQUAD itself (more about this later!). 
The Bundeswehr Mod project as you know it today, started back in August 2019. Back then, i had talks with Arma 3 modders, who wanted to port their assets for the Unreal Engine and who tried to include them into SQUAD. Sadly, there wasn't much going on anymore when i came into the picture. But like many of you, i wanted to play the Bundeswehr with my favorite game. I loved to play the faction with SQUAD´s predecessor, BF2 Project Reality, since i left the active duty military service back in 2010 – but originally i myself got not much clue about game design, except some private level design modding for PR years ago. So how did we end up with a team of 35 Modders and 12 military- and game design advisors just 2,5 years later as of today?
There is probably a lot of answers to this question, but the most important one is dedication and a LOT of work from everyone involved. Im talking of thousands of man hours in all departments of our team. The idea of creating a modern Bundeswehr faction for SQUAD most certainly did the rest and helped us staying motivated, even with a couple of harsh setbacks which we endured. Me personally, im proud of everyone participating with the project, including our Advisors, roughly 200 Playtesters, who kept our secrets well so far, and our donators. Because of you, we had great insights into military gear for modeling and animations, help with testing of our stuff lately and with the donations (roughly 1k € so far) we were able to buy some important software like Character Creator 3, Substance Painter, Marmoset and others, besides a lot of level props for our map Fulda Gap. While the modders themselves bore the brunt of the work of course, you other guys always supported us and for this we want to say thank you very much! Please keep supporting us. Now let´s get to the review and the update!
Note: I will mainly talk about what´s new. If you are interested in more details about other shown Items, please visit our previous blogs. Also join our Discord for news about our Playtests.
Faction: Player Weapons & Utility Items
Before we get to the newest update in this department, i am taking some time review what we achieved until today. We finished or nearly finished the following items modeling wise so far:
KM2000 Combat Knife
DM25 Smoke Grenade
DM51 Frag Grenade
MG3 (a modified MEA MG)
G3A3-ZF (a modified MEA rifle)
HK G36A3 Assault Rifle
HK G36KA3 Carbine Assault Rifle
CZJ Red Dot Optic (a modified MEA G3 optic)
CZJ Rifle Scope
HK Foregrip
DM31 Anti Tank Mine
The picture carousel above shows some of them pretty detailed. A first for SQUAD are our semi-transparent G36 magazines. We got them to work, incl. showing the correct amount of bullets left (See below)! As a special mention, i want to point out the G36 variants were made with traditional mechanical engineering software and brought into UE4 with a uniquely developed workflow. We will use this method for the new MG´s too.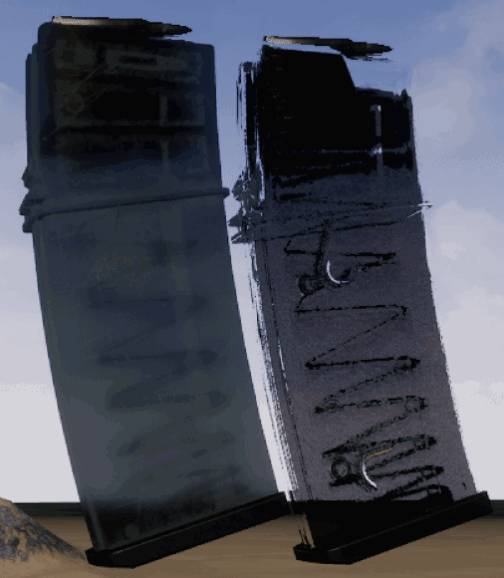 Art0mis went out of his way and made a really nice video about his G36A3 model. Here, take some additional eye candy for your pleasure (don't forget to visit his artstation profile):
Great models! But wait until you see whats new and coming relatively soon. The following items are in the works at the moment. They deserve more time and attention, but we want to show you the progress anyways (see picture carousel below):
Bundeswehr Faction: Vehicles
Our vehicles progressed a bit slower, due to their more complex nature. But what has been finished so far, looks awesome in my books! Above you can see the freshly finished Boxer GTK by Petr005 (The new wheeled APC of the Bundeswehr), The FLW200 by Petr005 and Lynx (a 50 cal. remote weapons station), the HANS 5T-GL loggy in our four biom camo variants (both loggy and transport variants are finished and integrated) with it´s brand new open top MG3 Turret (yes, all of our loggys get them per default!) and the Leopard 2A6M, with a showcase of our new German forest items.
Now to whats still in the making: In the carousel above, you can see our brand new M113 Panzermörser progressing really nice, thanks to our cooperation with the Squad Mod Brazil Team. It was originally scheduled for our mod's V2, but we are happy it to announce it will come with our V1 in 2022 if everything continues to go well for us. It uses Poliack's 120 mm Tampela Mortar, while beeing protected against artillery splinters and up to 7.62 mm ammunition. It will be additionally armed with an open top MG3 turret for self defense and can seat 4 (Driver, Commander, Gunner, Assistant Gunner). We hope this vehicle will give the mortar role an significant update, both in fire power and tactics. The arty guys can use shoot and scoot tactics now or will be able to drive two M113 Panzermörser next to two stationary FOB mortars and have a whole battery of four 120 mm mortars firing at once.
Speaking of cooperation: In return we helped the Squad Mod Brazil with their Leopard 1A5BR. We supported them with 200 4K pictures of the Leopard 1A5 at the Military History Museum of the Bundeswehr at Dresden, access to our software pool and guidance by our lead modders. The Leopard 1A5BR is a work in progress, but in our mind comes along nicely! If you are interested in their project, make sure to visit their discord.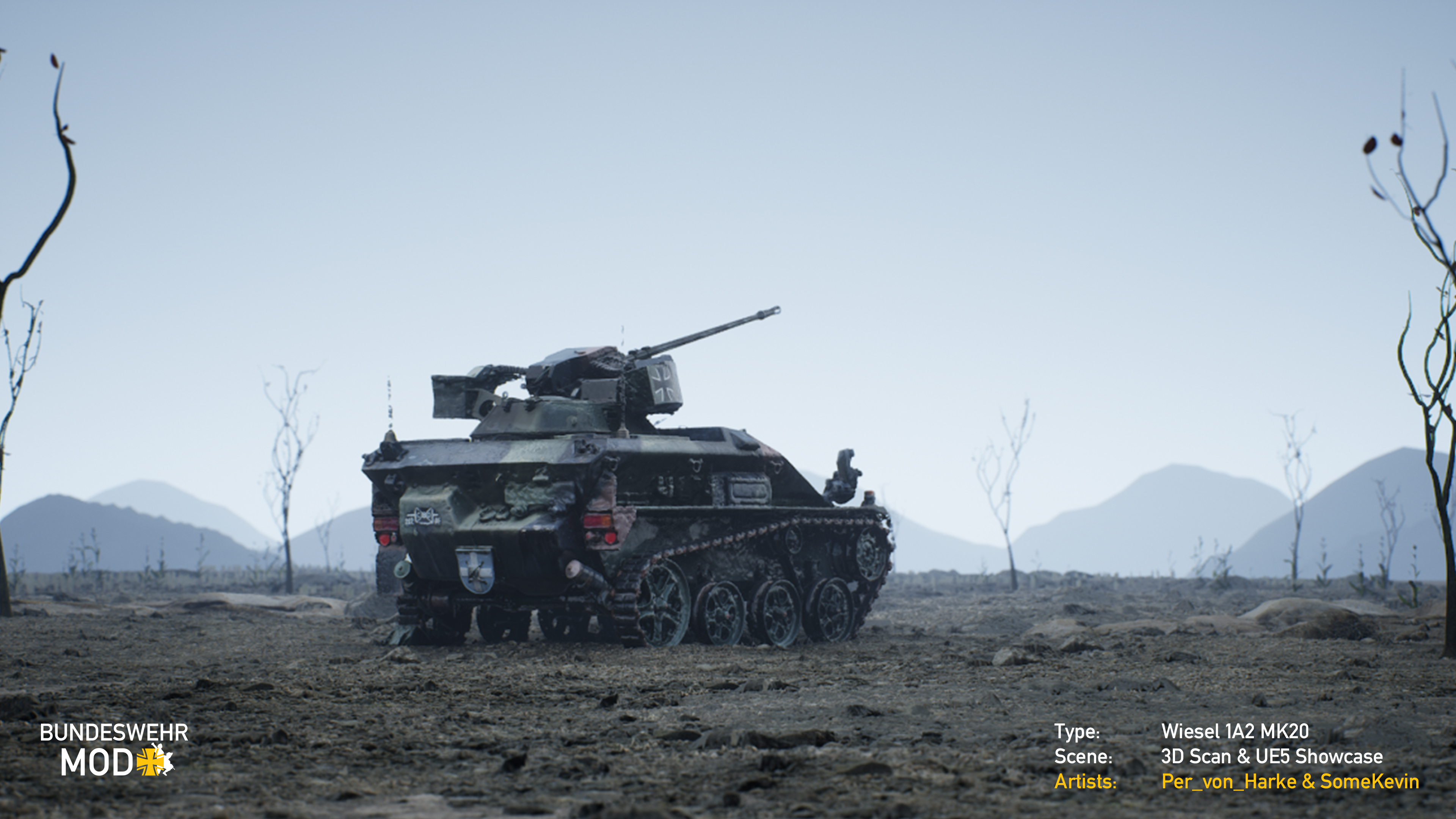 Faction: FOB Assets
Let's take a look into the FOB assets of our Bundeswehr faction: Poliack nearly finished the MG3 ground tripod "Erdziellafette". It is a buffered tripod with a trench firing mechanism, involving a trench optic. Since the Bundeswehr isn't using a 50 cal. version on a tripod and the MK19 grenade launcher isn't in the game yet, this tripod will be our HMG equivalent. If combined with a MG bunker, the gunner can stay mostly in cover while firing – you will have to make good use of your grenade launcher or flanking maneuvers to tackle it. This model is one of the most complicated ones of our project and Poliack spend around 120 hours already just on this asset – great job so far, in my opinion!
Bundeswehr Faction: Characters
Our character models are a heavy work in progress at the moment. We received a lot of feedback for the early models from our friend Holy Lord Jesus and are in the process of overhauling them. Thanks to the contributions of our donors, we were able to acquire the software Character Creator 3 for our Software pool. It gave us the opportunity to add individual faces to each class, without too much fuzz. At the same time, their level of details is amazing. The FAST style helmet , coming with the current IDZ-ES standard of the Bundeswehr, is new as well.
We also decided to bring in women into their faction, since over 25,000 women are serving within the German armed forces of 185,000 today. They are a very common sight within combat outfits (incl. German special forces) of the Bundeswehr and, following the philosophy of the BW-Mod team, deserve a representation in the game. Specific German ethnicities will also be represented, such as Turk-Germans, German-Africans, German-Slavics and of course classical German character types.
We are currently looking for a character designer, supporting our overhaul efforts. Please talk about us with your friends and send potential new modders over to our recruitment channel. This would help us tremendously, since this is one of our last weak spots development wise at the moment.
Bundeswehr Faction: Subfactions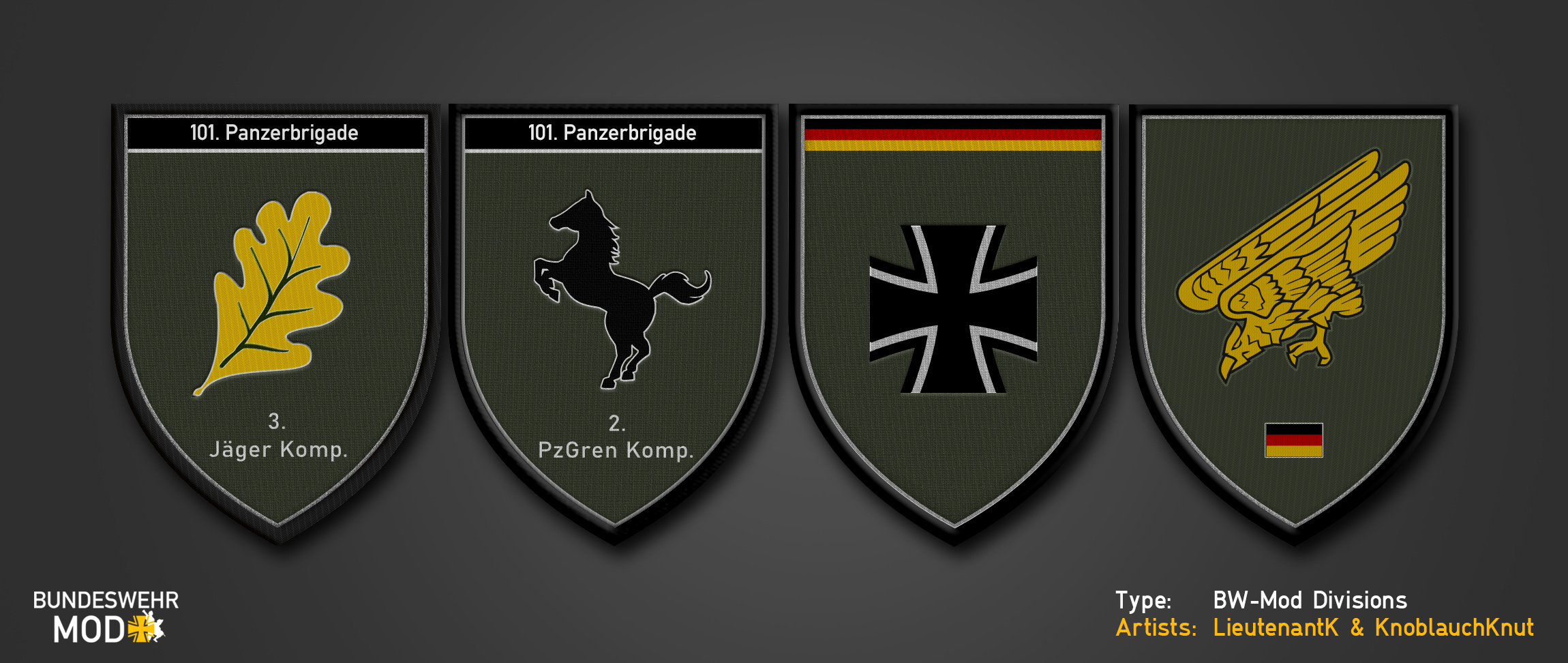 OWI, the publisher of SQUAD, will introduce their so called Divisions System. It will allow for different faction setups within the framework of a single faction. We present hereby our own emblem designs and unit setups for this new system. We decided to include fictitious company sized unit outfits, because they are closer in size to what SQUAD is providing, than a full sized Division of 10,000 soldiers.
From left to right:
3rd Jäger Kompanie of the 191st Jäger Battallion, part of the 101st Panzerbrigade. A light infantry force, with the Dingo 2 ATF and the Boxer GTK as their heaviest armed vehicle.
2nd Panzergrenadier Kompanie of the 505th Panzergrenadier Battalion, part of the 101st Panzerbrigade. A heavy mechanized infantry force, with the Puma IFV, Leopard 2 as their heaviest vehicles, supported by a heavy four-axeled logistics truck with open MG3 turret and the "M113 Panzermörser", a armored mortar carrier.
Combined Forces Battlegroup. A mix of all Bundeswehr army troops, light to heavy.
4th & 7th company of the 5th Luftlanderegiment. A paratrooper company and their fire support company, with the Wiesel weapons carriers, the Mungo troop transporter, the NH90 medium helicopter and the CH53 heavy transport helicopter.
Leveldesign: Fulda Gap
Our Fulda Gap map is advancing continuously. The optimization work put in mainly by Cpt. Brotzeit is paying off big time. While the foliage and micro terrain is still not where we want it, we have reached 90 FPS as a median again. The first playtest of our flag layer "Battle for Zillbach" is moving ever closer. With the next update we will show you more about our workflow and explain the ideas behind the introduction of Bunkers and trench systems to the map. You will also see new destroyed buildings and uniquely German building props. Stay tuned! Below, Cpt. Brotzeit prepared a fly through of a piece of our Hessian forestry (over 200,000 highly optimized and 3D scanned trees are positioned until now):
Leveldesign: Narva+ & Destruction for SQUAD
Even the publisher of SQUAD, Offworld Industries, thought it to be impossible to create well performing destruction mechanics for the game, but we figured a way out. This teaser serves as announcement for the public playtest of our Narva+ Mod. Join us for the public playtests, starting from december the 28th.
Note: There are some known issues, such as the SQUAD standard smoke effect not beeing optimized and therefore producing some FPS lowering around 5 to 10 FPS.
More information's about the Narva+ Mod and the public playtest will follow on a dedicated part of our website soon. We are looking forward to a nice round of Narva+ with everyone soon!
---
Support us: Join the Team!
You can expect to work with a divers and 100% remote team, made up of 30+ AAA artists, indie game developers and skilled hobbyists from all over Europe, North America and Asia. A experienced leadership level will support your efforts and give you advice whenever needed. Your tasks are clearly outlined from the get go. We are supported by a group of military advisors of the Bundeswehr from different military branches, to secure highest quality standards and valuable insights. We are using a growing shared pool of licenced software, such as Perforce, Substance Painter 2021, Marmoset 2021, Character Creator 3, custom made Blender Plugins, Quixel Mixer and more.
We are currently looking for these following talents:
3D Artists (Weapons, Vehicles & Characters / Textiles)
VFX-Artists (Environment, Smoke & Explosion effects)
Environmental Artists (3D / 2D)
You may apply over at our #recruitement channel, over at our Discord.
Support us: Donate via PayPal!
Your donation helps creating even more realistic maps incl. new German foliage, level props and alike. But also peripheral costs like software licences, server costs and such will be covered with your donation. Especially on software licences, we spend way more until now, then any donations available could pay for. Thank you in advance from the whole team!
Spread the word!
The simplest way to help us, is to spread the word about our project. Feel free to share this blog post with your gaming community and friends who might possibly help our team to reach our development goals faster. Also thank you in advance for sharing our story from the whole team.
The Bundeswehr Mod Team wishes you and your family a merry Christmas and happy holidays!